By frankieraye @ April 5, 2011 at 8:07pm

Being added to the game this week, we've got two new events that we believe will see a ton of use right away. Read on to find out about these new additions!

Elder's Blessing
This feature is intended for our new players– the moment that they log in for the first time, they will see a Treasure Chest-looking icon in the top left of the screen. By clicking on this icon, they will receive a full set of low-level gear as a reward! What's the catch, you ask? The only catch is that you'll have to stay logged in for a certain amount of time before you can obtain the reward– anywhere from ten minutes to an hour!
Here are two pieces of the set that you'll get just for hanging out online! You'll notice that this free gear will actually set you up pretty well for your first 30 levels or so, but keep in mind that this gear is on a timer, and will disappear after a number of weeks. All the more incentive to get out there and level up!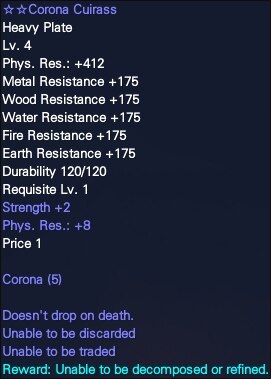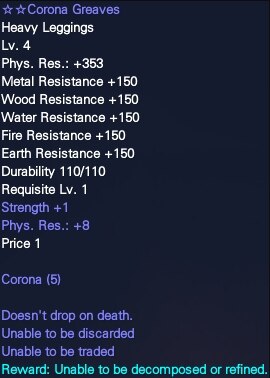 Please note that this Blessing will be available until June 19th!
Armageddon Prayer

This quest is only accessible to players who are level 90 and above. If you meet this description, head on over to Jolly Old Jones and check out his quest– Armageddon Prayer. Once you take this quest you'll be given an item–the Armageddon Prayer, and you'll be able to use it in multiple ways.
Right click for a quick 5000 EXP. You can do this once per day, and the cooldown on it resets at midnight. However, one catch is that the item itself has a 24 hour duration, and only by using it can you reset the duration to 24 hours again. One cool thing about this item is that you can actually use the Account Stash to pass it around your various lvl 90+ characters, and each of them can right click it for the 5000 EXP. Tip: Using this item later in the day will allow you to keep it for longer in the long run.
The other function of the Armageddon's Prayer item is centered around leveling up an Earthguard character. Once you have the Prayer, use the Account Stash to pass it over to your Earthguard (he must be between levels 40-80 to be able to make use of this). Once your EG has the item, talk to Jolly Old Jones again and you'll be able to obtain the Armageddon Salvation item. By right-clicking this item, you'll get a very special necklace–Armageddon Asylum. This necklace, with a duration of 1 hour, will grant you 30% bonus EXP while you wear it! The Armageddon Salvation can be right clicked once per day, and the cooldown for right-clicking resets at midnight.
Please note: This Armageddon quest can only be activated on one character per account, so choose wisely!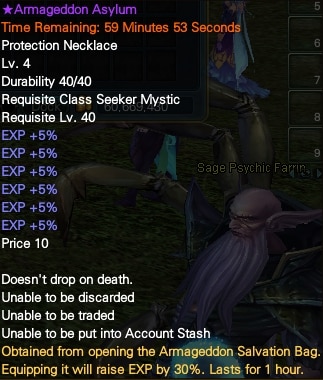 Dragon Points Quest - Jolly Old Jones
Jolly Old Jones is now selling Dragon Points! Simply head on over to him and check his Quest List; for a mere 100,000 Coins you'll be able to purchase 150 Dragon Points!
As always, you can purchase items with your Dragon Points here: http://pwi.perfectworld.com/dqrewards