By frankieraye @ May 22, 2012 at 11:21pm

May the slaughter commence!
Welcome to PWI: Imperial Fury, a robust content update that should go a long way toward satiating the monster-slaying, skill-learning, gear-hunting masses known as the PWI veteran community.
In this update, you will be tasked with going back into Morai to retrieve the Perfect World City Essences that were stolen during the destruction of Elysium Village and ensuing Descent invasion. It will not be easy, though, as to do so, you'll have to go toe-to-toe with Dark Lord Jian'rin's four powerful emperors, who are currently taking up residence in the Advanced Endless Universe dungeon.
Advanced Endless Universe
This new advanced mode will be accessible up to six times per week, and each attempt will result in one of three different variations of the instance to conquer. Each variation is significantly different from the next, though each calls for tremendous amounts of teamwork to successfully complete. And players will be well-rewarded for their efforts — each successful completion of Advanced Endless Universe will net each squad member a valuable chance box that contains either a brand new skill book or a stack of powerful buffing consumables. These boxes and their contents are fully tradable as well, meaning that you'll have the option to either use them or sell them on the market for a tidy profit.
Aurogon, the Dragon Emperor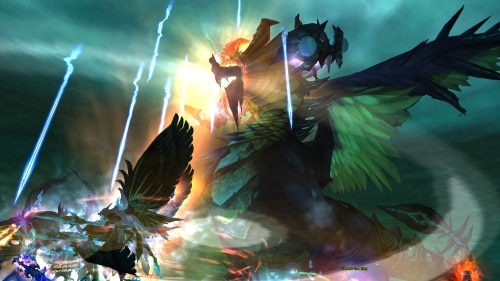 The Evolution of Lunar Glade and Warsong City
In addition to this new Advanced Endless Universe, we're also putting the Lunar Glade and Warsong City instances through a major revamp. These two dungeons have declined in popularity due to the rise of newer ones, so our developers decided to spruce them up a bit — both dungeons' difficulties have been increased substantially, and their rewards have been upped as well. If you can prove your worth on the battlefield, you'll be rewarded handsomely with the materials necessary to upgrade what is currently the most powerful gear in the game!
In addition, the changes to these dungeons are completely exclusive to our version of Perfect World, a result of your never-ending clamoring for more endgame content
!
And Many More…
So besides those two major additions, there is also a variety of other features, improvements, and content elements that you'll find in Imperial Fury, such as:
New temporary NPC (1 week). The Aurora Agent (563, 631) will allow level 80+ characters to trade 20 Tokens of Luck for a chance to get one of many powerful items including Rupture Crystals, Uncanny Crystals, Eyes of Darkness, and more. This NPC will return from time to time in the future.
New Bounty Hunter bosses
New and improved Phoenix Valley for Lv100+ heroes
Additional ways to gain Prestige
New PvP Protections
Player-Enemy targeting improvements
Reversion of Secret Passage to its more carebear-friendly roots
Yep, and many more..
So we hope that you enjoy this latest and greatest update; working with it was a very fun experience and we look forward to hearing what you think.
See you in-game and on the forums!
-The PWI Team