By frankieraye @ August 7, 2012 at 11:21pm

We're happy to announce our latest content update — PWI: Reflections!
This update brings a host of new content for low-level and high-level players alike, such as seasonal daily quests, a weekly Morai PK event, and a realm where you can meditate your way to the next level!
Read on for more information on exactly what you can expect upon logging in to this latest version of PWI!
Some of our most notable additions, changes, and improvements include:
New Zone: Realm of Reflection
This new zone, accessible to players level 31 and above, can be entered via the Thousand Streams NPC known as Mira Laedi. Once inside, you can use "Reflective Shards" to gain EXP and Spirit over time without even having to be at your computer! Feel like making a sandwich and streaming a marathon of your favorite show? Well now you can without losing ground on your closest leveling pals!
Reflective shards can be obtained through a multitude of different repeatable quests including Bounty Hunter, Cube of Fate, Advanced Endless Universe, and more.
Seasonal Quests in Main Cities
These daily quests are a fun new way for players to make the leap from level 21 to level 40. They can be accessed via the motley group of NPCs located in the main racial cities as well as Archosaur (583, 635).
High-Level Morai PVP Event
Got a thirst for blood? Have a bone to pick with members of other Orders? Well if you're level 95 or above, you'll be able to participate in a brand new weekly PVP event! Simply head into the Morai zone on Saturdays between 19:00 and 22:00 server time for some Order vs. Order goodness. Participating in this new event will win you Influence points as well as the chance of obtaining our newest furry friend, Sir Cuddlesworth!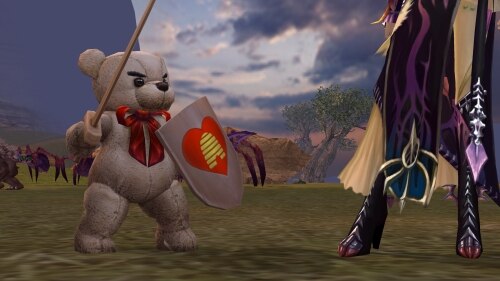 We're raising the stakes in TW in this update — the minimum bid is being increased, defensive towers have been made stronger, and defending factions may now have to fight up to seven battles simultaneously instead of three. For all details about these TW changes, please see this forum thread!
9 Trials Rewards Increased on Subsequent Runs
We've increased the rewards for each iteration of Trials that you complete within the week. This should bring the rewards in line with the scaling Trials difficulty as you complete their successive iterations.
Loot from Red-named players who are PK'ed can now only be picked up by the PK'er himself for the first 30 seconds.
This should increase the enjoyment of PVPing in common areas, since uninvolved players will no longer be able to swoop in and grab drops until after the 30 seconds are up.
EXP and Coins given for completing starter quests has been increased.
Level 1-30 quests in the original three racial starter zones are the ones affected by this increase. This change should streamline the questing for Untamed, Winged Elves, and Humans to bring it more in line with that of the two newer races.
And a bunch of other additions, including new mounts, pets, fashion sets, and dozens of tweaks to improve gameplay and fix bugs!

So we hope you enjoy everything that this Reflections content update has to offer, and as always, thank you for playing PWI!
-The PWI Team
Free MMORPG – Perfect World International (PWI)